GO TO THE MECHANTIQUES CURRENT SALES PAGES
Using any of the following links:
Important Collection of Vienna Wall Clocks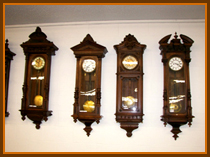 Now Available At Mechantiques!
Click To See
Marty Roenigk, Proprietor of Mechantiques, in front of the fabulous Seeburg H from Walt Disney World, now on permanent display in the lobby of the Roenigk's historic Crescent Hotel & Spa in Eureka Springs, Arkansas.

PRICES & PAYMENT: We carry a large stock, and sometimes things hang around longer than we would like or we simply are looking to make some room so we reduce prices - we typically make a notation when a price has been reduced, and these items can represent real bargains, so check for them. Also, we are not insulted by offers! If you see something you really like, but feel the price is a little higher than it should be or a little more than you can justify, make us an offer, we will give you a simple "yes", "no", or "in between"! LAYAWAYS: Can't afford to pay for an expensive item fully up front? We are happy to arrange for payment plans of a few months to up to six months or more on more expensive items. The terms are simple on layaways, we hold the item until it is fully paid for, and if you find you cannot or do not want to finish paying for an item on layaway we will buy it back at our normal 30% discount.
We are members of the Musical Box Society International, Automatic Musical Instruments Collectors Association and the Musical Box Society of Great Britain.
--------------------------------------------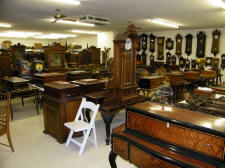 Mechantiques only sells antique mechanical musical devices that we actually own - no consignments, no advertising other people's property. We have been buying a lot of stuff during this economic slowdown and currently have more than twice as much inventory as we normally do, and are we having fun with it! Click here to see some more views of our enormous inventory. And it doesn't include another three scarce and desirable upright disc boxes we have purchased (24 1/2" Komet, 26 1/2" Monopol, 27" Symphonion) and three big band organs that will be coming in in early March (Wurlitzer 148, Wurlitzer 150, and a larger organ playing Wurlitzer 165 rolls). So come visit, see and hear what we have, and go home with a full truck! Click here for more shop photos.

--------------------------------------------
Why collect antique mechanical music? Read my philosophy of why I like antique mechanical music and why I think it is a fascinating and perhaps profitable collecting field. Click here.
--------------------------------------------
In 2006 the Roenigks made the latest addition to their group of properties in Eureka Springs - purchasing a historic 1901 stone church and renaming it the Gavioli Chapel. The Gavioli Chapel is being used for wedding ceremonies, but in addition it houses a small collection of antique mechanical musical instruments, highlighted by a fantastic Gavioli fairground organ from the Tom Fretty museum. This is an effort to provide a fun environment for weddings and to bring antique mechanical musical instruments out in front of the public again.
--------------------------------------------
Updated September, 2011
Vienna Clocks | Disc Music Boxes | Cylinder Music Boxes | Large Pipe Organs
Automatic Pianos & Orchestrions | Phonographs | Reed Organettes
Books | Other Mechanical Music | Other Non-Musical | Coin Operated Games
Buy an Item | Home

Contact us at info@mechantiques.com.
Click on Any Photo to Make it Larger
Mechantiques and all of the following businesses are owned by Elise Roenigk; Click to Visit.